Composer, theoretician of music and pedagogue. Graduate of the Fryderyk Chopin Academy of Music in Warsaw (Theory of Music under Professor Witold Rudziński, Composition in class of Professor Marian Borkowski). During her studies she had a scholarship of the Ministry of Culture and Art (twice) and she won the Wawrzyniec Rudziński artistic scholarship (Union of Stage Artists and Critics). In 1981 she was given Rector's Award for her study results. In the period of 1982–1995 she was supplementing her education during composition courses organized by the Polish Contemporary Music Association (Rydzyna, Radziejowice, Kazimierz Dolny), teaching workshops under the direction of the Dalcroze Institute (Geneva, Zakopane) and in theory of music (the Tempus programme, Musicology, University of Warsaw). In 2000 she completed the Postgraduate Studies in Theory of Music at the FCAM. In the period of 1974–86 she was a member of the Experimental Rhythmics Workshop at the Institute of Music Pedagogy of the FCAM and a co-worker of Barbara Turska and Szabolc Esztényi. Since 1983 she has been a pedagogue at the Fryderyk Chopin Academy of Music. Apart from that she was a guest lecturer at: the Pomeranian Pedagogical Academy in Słupsk, University of Zielona Góra, University of Warsaw, as well as Iasi University of Arts (Romania), International Theatre Institut (Munich, Germany), Universidad de Chile, Santiago de Chile (Chile), Instituto de Música, Pontificia Universidad Católica de Valparaíso (Chile), Conservatorio Superior de Música "Manuel Castillo", Sevilla (Espania) and a number of courses and workshops in Poland. Since 2002 she has been a chapter member of the Music Industry Award "Fryderyk", in 2011 she received Medal of the Minister of Culture and National Heritage "For Merits to Culture – Gloria Artis".
She is an author of 14 orchestra works, 29 chamber (instrumental) works, 17 solo pieces, 8 vocal pieces, 8 vocal and instrumental pieces (orchestra works), 12 multimedia pieces and 1 opera. Her pieces have been performed in Poland and abroad, on such festivals as: 8th International Music Theatre Workshop (München, Germany), 7th European Youth Music Festival (Bern, Switzerland), Divertimento Chamber Youth Orchestra Presents (Ottawa, Canada), Universitatea de Arte "George Enescu" (Iasi, Romania), VI Festival International de Música Contemporánea Darwin Vargas 2009 (Viñia del Mar, Valparaiso, Chile), Universidad de Chile, Pontificia Universidad Católica (Valparaiso, Chile), Música Polaca Contemporánea (Sewilla, Espania), XVI Word Saxophone Congress (St. Andrews, Great Britain), Florida State University, College of Music (Tallahassee, USA), Mansfield University (USA), Infinity Arts Café (Jamestown, USA), 61 Europees Muziek Festival voor de jeugd Neerpelt, Neerpelt (Belgium). Her phonographic achievements are four CDs and one DVD.
She won numerous composition competitions: 1987 – honorary mention at the Young Composers' Competition of the Polish Composers' Union in Warsaw for Pentarchia for chamber orchestra; 1992 – the 4th Prize (the 1st Prize was not awarded) at the Composers' Competition "Gdańsk 1992" organised by Schola Cantorum Gedanensis for Mironczarnie II for mixed choir a capella; 1992 – the 1st Prize at the T. Baird Competition for Young Composers in Warsaw for Okna na 23 instrumenty smyczkowe (Windows for 32 string instruments); 2001 – the 1st Prize at the Composers' Competition "The Garden Music" organised by the Botanical Garden of the Jagiellonian University in Krakow for the piece Pobłyski (Flashes) for soprano and chamber orchestra; 2001 – the 1st Prize at the A. Spassov International Composers' Competition in Plodiv (Bulgaria) for Invocazione — sinfonia vocale for mixed choir a capella; 2001 – Nomination of the CD 21st Century Polish Choral Music (Acte Préalable 0100) with the piece Błogosławiony (Blessed) from the cantata Afirmacje (Affirmations) was nominated to the "Fryderyk 2001" award; 2002 – the 1st Prize at the International Composers' Competition on the 45th anniversary of the Opera at the Castle in Szczecin for the chamber opera I co wy na to? czyli cierpienia nowego Pirandella (And what will you say? – Sufferings of the Young Pirandello). In 2003 staging of this opera was in the final of the poll of the Szczecin press and television – in the category "Performance of the Year" – and it was nominated to the Amber Ring, and in 2004 the film from its first performance was recommended by the Polish Section of the International Theater Institute to the opera films review during the Eighth International Music Theater Workshop "the New Works in Opera and Music Theater" in Munich, Germany and it was the only film representing Poland there. She was also awarded with the Filc Medal (1st Prize) during the 29th School of Visual Mathematics at the Academy of Podlasie in Siedlce.
As a theoretician of music she has published 5 books, 25 publications being part of books, 20 articles, 50 speeches (including commentaries to demonstrations or workshops) devoted to the composition technique and contemporary music and issues of creative teaching and music and movement analysis. She is a co-author of two books, including Nowe pokolenie kompozytorów polskich — almanach (1988), and an author of two books: Rytmika w Akademii Muzycznej im. F. Chopina w Warszawie (2004), and Poemat — Requiem. Forma znacząca, (2007). She also prepared a 4 hour film Rytmika w ujęciu Barbary Turskiej (2000).
She is a member of the Polish Composers' Association (its General Secretary since 2009) and the Polish Contemporary Music Association. She works actively for the Catholic Intelligence Club in Warsaw. In 2002 she was elected to the Research Board of Advisors — American Biographical Institute, Inc. Raleigh. North Carolina, USA
---
source: Fryderyk Chopin University of Music / photo by Marta Ankiersztejn, IMIT
Conductor and composer, assistant professor and director of bands at Denison University (USA). He holds the Doctor of Musical Arts in Orchestral Conducting from the University of Oklahoma and the Master of Music in Wind Conducting from the Meadows School of the Arts (Southern Methodist University).
An award-winning conductor, Dr. Westover has conducted wind ensembles and orchestras nationally and internationally. He was awarded First Prize by the jury of the 2019 Warsaw Wind Ensemble Conducting Competition. Dr. Westover's work has been described as elegant, bold, vibrant, inspiring and centered by Augusta Read Thomas.
Prior to his current appointment as assistant professor of music at Denison, Dr. Westover led wind ensembles, orchestras and operatic performances at Bethel College (KS), the University of Oklahoma, and the Meadows School of the Arts at SMU. He has received acclaim for his performances with educational and professional ensembles.
Dr. Westover has presented his scholarship on Vincent Persichetti and Beethoven at Hong Kong Baptist University and the conferences of the College Band Directors National Association and Internationale Gesellschaft zur Erforschung und Förderung der Blasmusik. He has conducted across the United States and in the People's Republic of China and Poland.
Since 2017 he has been a frequent winner of the American Prize for Conducting in the choral, orchestral, and wind ensemble divisions.
---
source: Denison University
Ryan Latimer is a composer currently based in Birmingham. His music has been performed internationally by leading ensembles including the LSO, CBSO, China National Symphony Orchestra, BBC Concert Orchestra, London Sinfonietta, Britten Sinfonia, Warsaw Chamber Opera and BCMG. Ryan was recently in residence with the BBC Symphony Orchestra as part of the Sound and Music Embedded Scheme and his new work for the orchestra was broadcast on BBC Radio 3 in 2016 and was subsequently shortlisted for the ISCM World Music Days 2018 . He has most recently been a resident composer with the collaborative dance group, Cohan Collective.
Recordings of his compositions, Mills Mess, Moby Dick, and Chloe have recently been released by RMN Records, Ablaze and on NMC Recordings' Next Wave album, a collection of performances showcasing the diverse new work of twelve young composers.
2014 saw the premiere of his first opera, Three Tall Tales of Doctor Monsieur Façade, commissioned by the Warsaw Chamber Opera in Poland. In 2013, he was one of six composers to participate in the LSO Panufnik Scheme, resulting in the performance of his orchestral work, Rhapsody. Also, in the same year, he was one of six featured composers at the Austrian Cultural Forum's Soundings Festival and his piece, Divertimento, commissioned by Britten Sinfonia, was premiered at Wigmore Hall and broadcast on BBC Radio 3. In 2011, he was awarded 1st prize at the Young Composers Meeting (Netherlands) and was subsequently commissioned to write a larger work for the Dutch ensemble, Orkest de Ereprijs.
Ryan is a Lecturer in Music at the University of Birmingham and published by Composers Edition.
---
source: ryanlatimer.com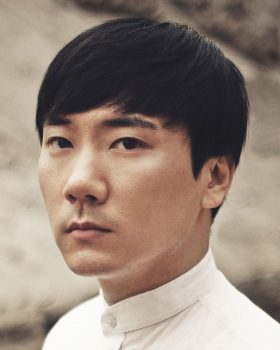 Composer, born 1983 in Daegu, South Korea. He began musical study on the piano lesson at the age of seven. He graduated in composition at the Keimyung University (BMus), Fryderyk Chopin University of Music (MMus) and obtained his Doctor of Music (DMus) in the discipline of art composition and music theory at the Fryderyk Chopin University of Music under the supervision of professor Marcin Błażewicz. He has been selected for various workshops and masterclasses, such as Impuls Academy, Voix Nouvelles, Matrix12″ by Experimental Studio des SWR in Freiburg, working with leading composers: Unsuk Chin, Chaya Czernowin, Brian Ferneyhough, Beat Furrer, Fabien Lévy, Oscar Bianchi, Clemens Gadenstätter. In 2014, he was granted his portrait concert by Arts Council Korea and also received scholarships Pro Polonia from 2009 to 2011.
He has been a lecturer at the Fryderyk Chopin University of Music in Warsaw since 2011.
His piece Fantasia Luminosité for violin solo and orchestra was awarded the 30th Queen Sofia Prize in Spain 2013 as youngest composer. After his premier, he was lauded by the major newspaper of Spain, La Vanguardia, and musical critics like José Luis Pérez de Arteaga gave such eulogies as "Lyrical virtuosity" and "Powerful energetic rhapsodic work". The following year, he was invited to be a judge for the 31st Queen Sofia Prize. He has also been awarded numerous domestic and international awards, such as the International Composition Competition for the Centenary of the Society of Authors ZAiKS for Phenomenon for orchestra 2nd Prize 2018 (Poland), the Karol Szymanowski International Music Competition in the discipline of composition 3rd Prize 2018 (Poland), the George Enescu International Competition for Composition, Grand Prix of Symphony Section 2011 (Romania), the fifth and sixth International Jurgenson Composition Competition 2nd Prize 2009 and 2011 (Russia), the 2nd Ignacy Paderewski International Composition Competition 1st Prize 2009 (Poland), Dong-A Music Competition for Composition 1st prize 2009 (Korea), Finalist of Geneva Competition in Geneva, Swithzerland in 2013 and Semi-Finalist of Queen Elisabeth Competition in Belgium in 2011.
Eunho Chang has been commissioned to compose new creations by Feeding Music Milan-Music for EXPO 2015, Voix Nouvelles Royaumont, Musica Polonica Nova co-financed by Ministry of Culture and National Heritage in Poland, Royal Castle in Warsaw, Plock Symphony Orchestra, Vacances Percutantes Festival in Marmande, Hwaum project – Move on Asia, Ensemble Kwartludium, Opium String Quartet, Ensemble Tactus, Keimyung University and Chopin Trio.
His compositions have been performed by outstanding ensembles and orchestras such as TIMF Ensemble, Arditti Quartet, Klangforum Wien, the Ensemble Contrechamps, Divertimento Ensemble, Ensemble Tactus, Musiques Nouvelles, Sound New Ensemble, SurPlus Ensemble, Ensemble Kwartludium, Mark Pekarsky Percussion Ensemble, Hashtag Ensemble, Spółdzielnia Muzyczna, Ensemble SORI, Neo Quartet, The Polish Radio Symphony Orchestra, Spanish Radio-Television Symphonic Orchestra, Janacek Phiharmonic Orchestra, Kyeonggi Philharmonic Orchestra, Suyeol Choi, Sandro Gorli, William Blank, Carlos Kalmar, Enno Poppe, Jean-Paul Dessy, Gregory Charette, Kristof Barati, Michinori Bunya, Felix Renggli, Angele Chemin, in most European countries as well as in South Korea and the US, and have been radio broadcast in South Korea, Poland, Portugal, Russia, Spain, Switzerland.
He has been selected as Composer in Residence Hashtag Ensemble, Ensemble Polywerk, Ensemble Kwartludium, Voix Nouvelles in Royaumont, France, Tactus Composer's Forum in Belgium, The National Conservatory of Prague supported by Arts Council Korea and Assistant Residence in the Fryderyk Chopin University of Music in Warsaw.
Eunho Chang's works are published by Simon Verlag in Germany and Sejong Cultural Society in the US. A portrait CD, Kaleidoscope chamber works by Eunho Chang on KAIROS in 2018, Memory piano works by Eunho Chang in 2017, Sanjo Series volume 1 in 2015 were released on Requiem Records with DUX in Poland.
---
source: eunhochang.com / photo by Anita Wąsik

Conductor – a graduate of the Karol Kurpiński Military Music Secondary School in Gdańsk and the Fryderyk Chopin Academy of Music in Warsaw in the class of wind orchestra conducting. In 1998 he completed postgraduate studies in choirmasterhood at the Feliks Nowowiejski Academy of Music in Bydgoszcz, and in 2000 he completed postgraduate studies in voice emission at the same university. Since 1987 he has been associated with the Concert Orchestra of the Representative Artistic Ensemble of the Polish Armed Forces, initially as an instrumentalist, and then as a conductor. From 2004 to 2008 he was the Commander – Captain of the General Józef Wybicki Representative Orchestra of the Polish Armed Forces.
He is the author of nearly 100 transcriptions and musical arrangements for wind orchestra. He has made many recordings as an instrumentalist and conductor, and is frequently invited to participate in the works of the jury of festivals and competitions of wind orchestras, as well as a lecturer of workshops for conductors and drum-majors. For several years he has been a member of the board (and President since 2015) of the Polish branch of the Society of Military Music Enthusiasts. Since 2009, he has been the conductor of the Youth Brass Orchestra at the Volunteer Fire Brigade in Kaski, with which he has won the highest prizes at festivals and competitions for amateur music bands.
---
source: own materials of Adam Czajkowski / photo by RZAWP
Director – Editor-in-Chief of the PWM Edition. Musicologist, music columnist, culture manager and publisher.
For many years associated with the Institute of Music of the University of Silesia in Cieszyn and the Institute of Musicology of the Jagiellonian University. He is a scholarship holder of the Deutscher Musikrat and Ernst-von-Siemens-Musikstiftung, Magazine Polityka and the Foundation for Polish Science.
Apart from his scientific activity, Daniel Cichy was active as a music critic and journalist. He cooperated with magazines Tygodnik Powszechny, Ruch Muzyczny, the Second Polish Radio Programme and Radio Cracow; he published critical essays and texts in polish press (Glissando, Didaskalia, Teatr) and foreign press (NeueMusikzeitung, MusikTexte, Neue Zeitschrift für Musik). In January 2013 he became editor-in-chief of the PWM Edition and since January 2017 he has been the director and editor-in-chief of this institution. He is responsible for the implementation of the 100 for 100 Musical Decades of Freedom project, the largest musical project in Poland, prepared as part of the celebration of the 100th anniversary of regaining independence by Poland.
---
source: PWM / photo by Anna Maria Olak
Composer, Chief Editor of Polskie Wydawnictwo Muzyczne, initiator of the series Biblioteka Orkiestr Dętych (The Wind Orchestras Library).
Born in 1990 in Bielsko-Biała, he graduated from the Silesian University of Technology in the field of traffic engineering at the Faculty of Transport in Katowice. At the same time he started his studies in the composition class of Professor Andrzej Dziadek at the Academy of Music in Gdańsk, where he graduated with a diploma with distinction in 2017. In 2015 and 2016 he received the Scholarship of the Rector of the Academy of Music in Gdańsk for his artistic achievements. He is a member of the Young Composers' Association of Polish Composers.
He works as a chief editor at the PWM Edition in Cracow, preparing premiere orchestral materials for bands and orchestras from all over the world. He is the author of The Wind Orchestras Library project carried out at PWM Edition since 2019. He continues his compositional activity, and his works and arrangements are performed throughout the country and abroad: Le Carreau du Temple, Paris (2018); Clara Schumann Saal, Frankfurt (2018); St. Albert's Church, San Jose, California (2017). His compositional interests focus on orchestral literature for children and youth and methodical piano literature.
In 2018 he edited Fanfare written by Krzysztof Penderecki to celebrate the 100th Anniversary of Poland's regaining independence as part of the 100 for 100 Musical Decades of Freedom concerts.
He is the winner of the 3rd prize in the National Composition Competition Fontannie bije ten dzwon for the piece Echoes of Gdańsk for St. Catherine's Carillon and Tape (2016) and the winner of the H. H. Jabłoński Composition Competition for the piece Trio per marimba, vibraphono e pianoforte (2015). He wrote for the Polish Carillon Association and for the Workshops of Contemporary Music conducted by Lennart Dohms of Hochschule der Künste Bern (2014). He also participated as a performer in the 12th Baltic Science Festival (2014).
---
source: own materials of Jakub Nikiel

Conductor, doctor of music (conducting), arranger, music producer. Conductor of the National Wind Orchestra in Lubin.
A graduate of the Fryderyk Chopin University of Music in Warsaw, Academy of Music in Gdańsk, Wrocław and Bydgoszcz, as well as the Lower Silesian Public Services School in Wrocław. Since childhood he has been associated with the wind orchestra community; promoter of wind instruments and all projects related to the promotion of wind ensembles. He successfully performs in Poland and abroad.
He has arranged over 150 pieces for big-band and wind orchestra, in classic, jazz and pop music genres. He was the artistic director of such events as: The Freedom Concerto on the occasion of the 35th anniversary of the Lubin Crime (2017), The Great Freedom Concerto (2018) and Kolej na Lubin show (2019).
As the founder and leader of the big-band "Dziubek Band" performed in the TV shows Must Be The Music and Mam Talent (Poland's Got Talent).
---
source: Organiser's own materials / photo by Łukasz Gawroński
Conductor, composer, instrumentalist, pedagogue and popularizer of musical knowledge. Graduated from the Faculty of Composition, Conducting and Theory of Music (major: symphonic and opera conducting) at the Fryderyk Chopin University of Music in Warsaw. He received his Bachelor's degree in the class of Marek Pijarowski, and his Master's degree in the class of Szymon Kawalla. In 2017 he was awarded the title of Doctor of Music Art in the artistic discipline of conducting at his alma mater. Winner of numerous competitions in the field of music theory, composition and improvisation. Finalist of the second and third editions of the Young Stage programme of the Warsaw Chamber Opera, as part of which he led the world premieres of operas by contemporary composers. Since 2011, the artist has been a speaker at educational concerts at the National Philharmonic in Warsaw, and since 2014 he has been working as a conductor-pedagogue at the Complex of State Music Schools No. 1 in Warsaw. In 2016, the album of soprano Joanna Freszel Real Life Song, where the artist conducts the world premieres of works by Miłosz Bembinow and Katarzyna Szwed, received two nominations for the Fryderyk Award and the prestigious Les Orphées d'Or Award.
As a conductor, he also collaborates with the Polish Sinfonia Iuventus Orchestra, Fryderyk Chopin University of Music Symphony Orchestra, Oskar Kolberg Philharmonic in Kielce, Witold Lutosławski Chamber Philharmonic in Łomża, Szafranko Philharmonic in Rybnik, Elbląg Chamber Orchestra, Radom Chamber Orchestra, Płock Symphony Orchestra, Arte Creatura Music Theatre and the Rozmaitości Theatre in Warsaw. Since 2017 he has been a lecturer at the Fryderyk Chopin University of Music in Warsaw, where he teaches at the Faculty of Composition, Conducting and Theory of Music. It is worth mentioning that with his youth wind orchestras, the artist performed at the National Philharmonic in Warsaw, the Baltic Philharmonic in Gdańsk, the Częstochowa Philharmonic and at the seat of the National Polish Radio Symphony Orchestra in Katowice.
---
source: own materials of Jarosław Praszczałek